Well, it certainly feels like a while since we've been able to do one of these, but yeah, this is not a sad attempt at a little clickbait. We're actually giving away a whole, brand new, advanced gaming PC system.
Have we gone crazy? Quite possible! – Let's be honest, given how absolutely rubbish things have been the last couple of years when the opportunity came, we wanted to give our fans and supporters a big thank you!
And let's face it, what does "I love you" say more than a brand new gaming PC? … (Who needs flowers or chocolates, am I right? …)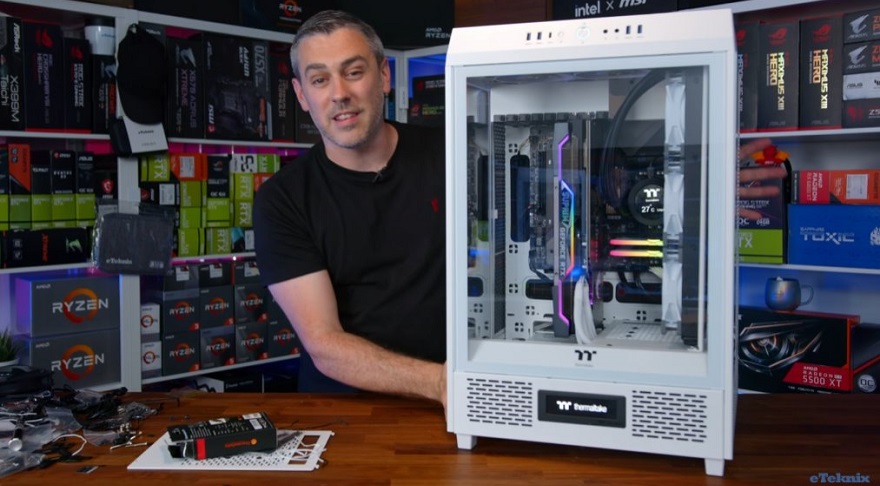 This extreme high-spec gaming PC can be yours !!!
With many thanks to both Thermaltake (official website here) and MSI (official website here), we have an absolutely fantastic gaming PC system to give away here. And when we say 'high-spec' in the title, this is not excessive either. If you do not believe us, check out some of the key specifications below. Simply put, this is a beast, and with a few clicks, it maybe be yours to own, keep and enjoy, forever! Well … until you decide to upgrade at least that, based on these components, should be one very far in advance!
Thermaltake Tower 500 Snow Edition case
Intel Core i9 12900K processor
MSI MAG Z690 Tomahawk motherboard
MSI Suprix X 3080 graphics card
Thermaltake Toughliquid Ultra 360 AIO liquid cooler
Thermaltake ToughPower GF1 SNOW 850W 80-plus gold power supply
Thermaltake ToughRam XG RGB (2 x 8GB) 4000MHz memory
MSI Spatium M480 2TB NVME Storage Drive
Absolutely lots of Thermaltake ToughFan 12 for superb cooling performance!
Thermaltake LCD panel set!
So what do you have to do to get in? Well, the competition form is below, but before you rush, there's a catch. We have a question for you to answer
What is considered the "sweet spot" (in RPM) for Thermaltakes ToughFan 12?
The answer is in the video above, but no, I'll not tell you where to look! – You have to do it yourself!
The competition is open now until 23:59 on June 28, 2022. – So stay tuned and sign up!
Good luck guys!
Win an EXTREMELY high-spec gaming PC !!!

Terms and conditions!
This gaming PC competition is organized by eTeknix on behalf of Thermaltake. – The winner will be selected at random from all valid entries by an eTeknix employee. Thermaltake has no influence or influence on the selection (or disqualification) of the winner / participants. – Your email address (if submitted) may be collected by eTeknix.com and / or Thermaltake. eTeknix will not share or sell your information. By entering, you agree that eTeknix and Thermaltake may send you content-related emails.
In the unlikely event of a dispute, eTeknix employees have the last word and no discussions will be initiated. – In the unlikely event that this gaming PC is unavailable, eTeknix reserves the right to offer alternatives of equal or greater value. However, no cash option is available.
This competition ends at 23.59 on 28 June 2022. Registrations made after this point will automatically be disqualified. – The winning participant is drawn within 7-10 working days after the end of the competition.
This gaming PC contest is available to all contestants worldwide!
The prize (s) may take 4-8 weeks to arrive, although this may take longer in special circumstances. We always try to deliver prizes as soon as possible. – The selected winner must respond within 5 working days after being drawn, or may automatically lose the prize to the next drawn winner. – This competition is for 1 individual prize for 1 individual winner.